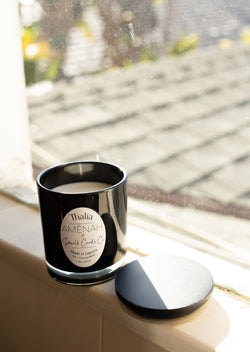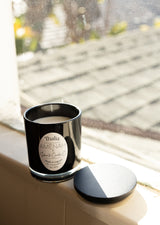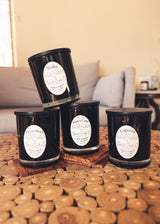 Thalia Candle - AMĒNAH x Sidewalk Candle Company
This beach scent will sweep you away with the calming scent of sea salt splashing on the sand. A combination of driftwood and the gentle scent of orange blossoms round out this beach fragrance.
Hand poured in Southern California
10 oz Black Glass Vessel with wooden lid
Vegan Friendly
99% Natural Soy Wax grown in the U.S.A.
1% Coconut Oil 
Lead Free Wick
Clean Burning
Non-Toxic
If you notice a bumpy surface or small holes once your candle has cooled from burning, this is normal for soy wax candles. When you light your candle the wax will melt and your candle will perform as normal.
Burning Instructions:
During the first burn, make sure to allow the entire surface of the candle to turn to a liquid state. This will ensure your candle gets the most hours of burning time.
Trim your wick to 1/4″ prior to each burn (Our candles are trimmed for your first burn).
If you notice a large flame while burning, blow out flame, wait until the wick is cool, trim wick & re-light. Remove any wick trimmings that may have fallen into the wax (this is a fire hazard).
Only burn for 2-3 hours at a time.
Do not leave candle unattended while burning.
Keep away from children, pets, drafts, and any flammable items.
Discontinue use when 1/4″ of wax remains in the container.