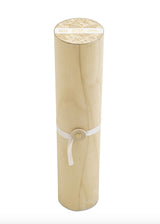 Print Block Incense - Fleur de Sel
Fleur de Sel is Ocean air and sea salt with top notes of floral and summer fruit. Contains all-natural lavender, lemon and orange oils.
Our Print Block incense features 50 sticks of high-quality, hand-dipped incense made in the USA. Scented with out exclusive, best-selling fragrances, each stick burns for approximately 1 hour to help clear the mind and infuse any room with a soft fragrance. 
• 50 one hour sticks
• birch veneer box
• 2 ¼˝ wide x 11˝ high