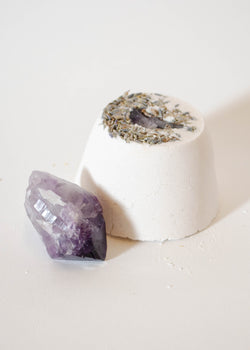 Amethyst Crystal Bath Bomb - Lianna San Francisco
*Lavender Amethyst Bath Bomb*
Calm your mind, body and soul while connecting to your spirituality with this protective Bath Bomb!
We've specifically included Amethyst, Lavender Essential Oil, Purple Brazilian Clay and lavender flowers to stimulate and deepen your connection to the Crown Chakra located at the top of your body. These colors and scents coupled with the stone stimulate the "I understand" mantra!
Like all of our bath bombs, this is carefully created from all-natural ingredients such as Organic Coconut Oil, Essential oils and only the use of herbs, clays and flowers for colorants.
Treating yourself to a crystal bath once a month is a great way to maintain balance in your physical, emotional, and mental body.
~Amethyst is like a warm weighted blanket (maybe add a cup of hot tea!) that cocoons you with warmth and love so you can clear the unwanted clamor and noise to reach deeper levels of focus, relaxation, meditation, or whatever you need to attend to in your day and night. Amethyst means "sincerely" and "freedom from harm" and symbolizes peace of mind, deep love and devotion, and wisdom. It is a powerful, widely loved stone that slows an overactive mind, and draws off unwanted stressors associated with anxiety, grief, or anger to replace it all with love. Doesn't that feel better? This clears space for you so you can listen more closely into your intuition and let your truth shine! Amethyst creates openness, deeper understanding and awareness, spiritual connectedness, and helps with visualization, goal setting, and making decisions too. It supports cell and metabolic processes, hormone regulation, blood, skin, respiratory and digestive systems.~
--------------------------------------------------------------------------------------------------------------------------------------------------------------------------------------
*How to Use:
- Draw yourself a nice warm bath
- Prepare your perfect setting by grabbing a cup of tea, playing soothing music, lighting candles or incense, dimming the lights, etc
- Hold the bath bomb in your hands and get excited about the energy that the crystal brings and any intentions you've set
- Drop your bath bomb into the tub and ease your way in making sure not to step or sit on your crystal
- Relax and breathe deeply imagining your body soaking up all the beautiful energy from the crystal and essential oils
- Soak for as long as you'd like
- When finished and exiting the bath be sure to remove your stone before draining
- Pat dry to keep coconut oil on your skin after bath
- As you are drying and the bath water is draining, visualize all things that don't serve you being dried or wash away down the drain
- Take a moment to say "Thank you" for this experience and carry the amazing feeling with you for the rest of your day
*Post-Bath Crystal Care and Use:
- Be sure to thoroughly dry your crystal with a soft towel after the bath
- The best place to put your crystal is wherever your heart desires! Amethyst is happy anywhere as long as it's not in direct sunlight and is sometimes placed in the bedroom because of it's calming, destressing, subconscious healing properties.
*Ingredients: Amethyst, Baking Soda, Corn Starch, Citric Acid, Epsom Salt, Organic Coconut Oil, Purple Brazilian Clay, Lavender Essential Oil, Water.
*Storage: Bath bombs keep the longest in an air tight container.
*Pat dry after bath to keep hydrating coconut oil on your skin.*
*TUB MAY BE SLIPPERY AFTER USE*
Brand: Lianna San Francisco 
Handmade in San Francisco, California