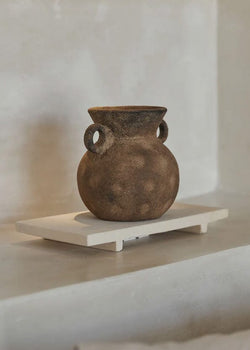 The Sandstone Tray is specifically designed to be the perfect companion for your bathroom vanity. It's sleek and minimalist design blends seamlessly with any bathroom decor, adding a touch of sophistication to your space. The sandstone material offers a smooth and luxurious texture, creating a visually appealing focal point in your bathroom.
This tray serves multiple purposes, making it a versatile addition to your vanity. Use it to neatly organize your favorite skincare products, cosmetics, or jewelry, keeping them easily accessible while maintaining a clutter-free environment. The Ayu Tray's spacious surface area provides ample space to display and arrange your items in a visually pleasing manner.
Approximate Dimensions (W x H): 12" x 1.5"
*Due to the handmade technique used to create this piece, no two are the same. Slight differences in colors, pits, spots, and dimensions are intentional and should be expected. This is a one-of-one piece created exclusively for you.*