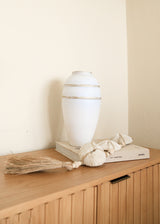 Get festive this holiday season with our limited edition, Luz Vase. This minimal urn-shaped vase features accent rings overlaid in gold and a wide-mouth making it ideal for displaying branches or arching botanicals.
Each individual piece is handmade with love in Tonala-Mexico and has unique imperfections. These include, but not limited to slight differences in colors, pits, spots, and dimensions.
Size (in.):
Diameter: 6in Height: 12in
Please note: Our clay vases are handmade by artisans and they are styled best as decorative pieces.
*Do not add water to the vase as it is composed of clay and will cause damage.