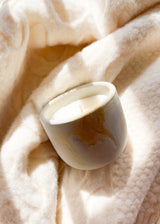 Chai Concrete Vessel Candle x Sidewalk Candle Co.
This cozy scent will sweep you away with its warm welcoming scent. A combination of chai spices with cinnamon, clove and a hint of vanilla round out this winter fragrance.
Hand poured in Southern California
Hand poured cement vessel with no lid
Vegan Friendly
99% Natural Soy Wax grown in the U.S.A.
1% Coconut Oil 
Lead Free Wick
Clean Burning
Non-Toxic
If you notice a bumpy surface or small holes once your candle has cooled from burning, this is normal for soy wax candles. When you light your candle the wax will melt and your candle will perform as normal.
Burning Instructions:
During the first burn, make sure to allow the entire surface of the candle to turn to a liquid state. This will ensure your candle gets the most hours of burning time.
Trim your wick to 1/4″ prior to each burn (Our candles are trimmed for your first burn).
If you notice a large flame while burning, blow out flame, wait until the wick is cool, trim wick & re-light. Remove any wick trimmings that may have fallen into the wax (this is a fire hazard).
Only burn for 2-3 hours at a time.
Do not leave candle unattended while burning.
Keep away from children, pets, drafts, and any flammable items.
Discontinue use when 1/4″ of wax remains in the container.